Drain Cleaning Service
London, Ontario & Surrounding Area
Prevent or fix a Clogged drain
Often, clogged drains are years of build up slowly leading to a clog. A clogged drain may seem like a minor setback however if unresolved can lead to more complicated plumbing issues. The first signs of buildup or blockage is a slow drain – pooling of water in your sink or tub or an odour coming from the drain.
With the latest technology and tools, we can help with any clogged drain situation and our flat-rate pricing ensures you always know what's involved before going ahead with a plumbing repair or service.
Prevent a plumbing emergency when you book a drain cleaning with our licensed plumbers (519)-439-4328.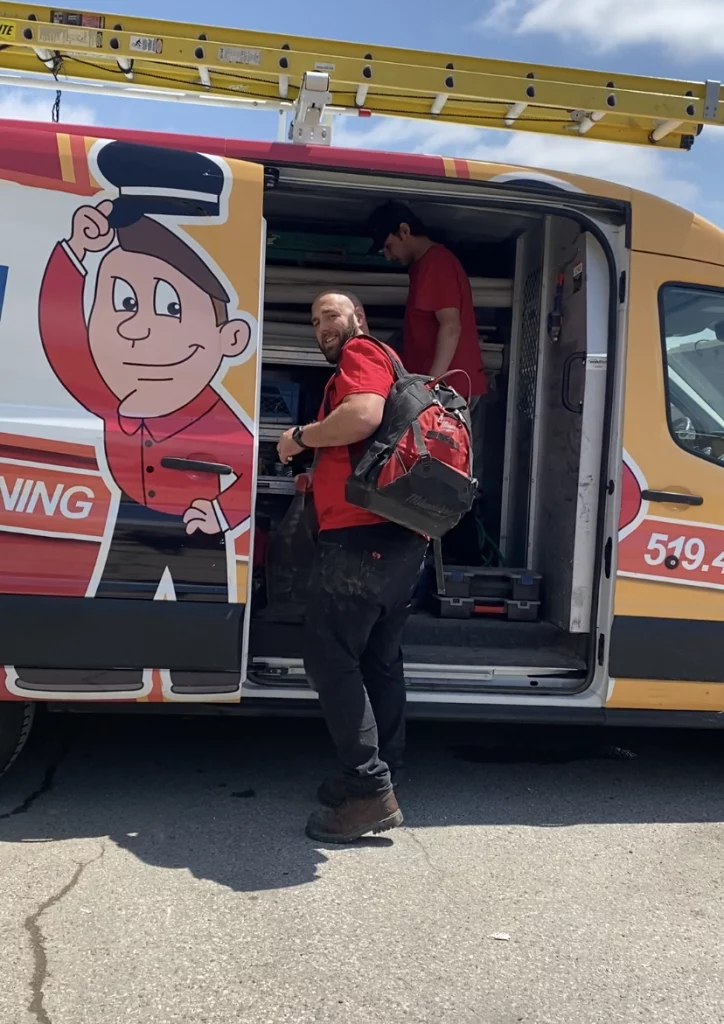 Professional Drain Cleaning & Plumbing Services in London, ON
Our plumbers employ safe and professional measures to ensure your drains are cleaned effectively without damaging your pipes. We avoid using harsh chemicals (you should too) that can be toxic, cause harm to your plumbing and are not the safest to keep in your home. 
Instead, we use drain cameras and snake drains for clogs that are out of reach and use natural products to break down tough build ups.
Maintenances Protect Your Plumbing & Prevent Clogged Drains
Like your home HVAC system, we can provide plumbing maintenance to keep your drains clear, check for any forming issues, and save you money on your plumbing bill.
We are committed to providing affordable, quality, long-lasting solutions so you can back to being comfortable. Call us today.
Avoid using harsh chemicals
A clogged drain is one of the most frequent issues homeowners experience with their plumbing. You may need drain cleaning because of hair buildup, residual soap buildup, toiletries (flushable wipes, feminine hygiene products, cotton, etc.), a poor plumbing setup in general, congealed fast & grease, or foreign objects like toys & jewelry.
Prevention Tips:
The best way to keep drains clear is to limit what you put down them.
Keep food, coffee grounds and grease out of your kitchen sink – you could try a compost instead

Pour liquid grease into a sealable container. After it cools, put it in the trash or take it to a recycling center
Cover your tub and shower drains with a mesh screen or a perforated shower drain. Pro Tip: Brush your hair before you shower or take a bath to remove any loose hair that may fall out in the tub
When shaving or bathing a pet, try placing a washcloth over the drain
Watch what you flush. Feminine hygiene products, baby wipes and other household waste should go in the garbage
Contact Us for Drain cleaning
or give us a call at 519-439-4328 today!
"*" indicates required fields