Air Conditioner Repair Services
London, Ontario & Surrounding Area

Our technicians provide professional air conditioner repairs and recommendations. Plus get upfront pricing including parts & labour BEFORE we start so you always know what's included before going ahead with an air conditioner repair. 
Serving London, Woodstock, St. Thomas, Strathroy & Area since 2013, it's our pleasure to investigate any air conditioning repair or comfort issues. Our Repair Guarantee*, industry-leading warranties and 2-Hour Arrival Window ensure you get great, long-lasting service and solutions.
BEFORE YOU BOOK – here are some things you can try!
BONUS – Check out our latest promotions!
For a professional air conditioner repair or service, call Donaldson (519)-439-4328.
Professional Air Conditioner Repair Services in London, St. Thomas & Area
Our air conditioning technicians employ safe and professional measures to ensure your air conditioner is thoroughly tested & our repair guarantee ensures it is fixed properly.
The Ozone Depletion Protection Regulation requires technicians to find and repair any potential refrigerant leaks before recharging the AC with any refrigerants that could be harmful to the environment. Call us if your AC isn't cooling very well and we can check it out (519)-439-4328.
Things To Consider: When To Fix Or Replace An Air Conditioner
When considering whether to repair or replace your air conditioner, start with figuring out how old is. Check the rating plate on the unit outside for a date. Typically an air conditioner will last about 10 years before they can start to have issues.
TIP: Take the age of the AC x the cost of the repair and if it is = to 50% or more of a new air conditioner, we would strongly suggest investing in a new one. Call us today.
Repairing even a minor air conditioning repairs can help save you time and money by preventing larger, more expensive breakdowns. If you notice your energy bills going up, no cool air coming from your vents, unusual noises, changes in your air conditioner function or run time, you may want to have a professional look at it. 
Our team can provide expert AC repair recommendations. Check out our promotions or contact us for a free quote any time.
Air Conditioning Maintenance Care Plans
For as low as $10/month, sign up for a Maintenance Care Plan today to receive a free maintenance every year, free diagnostics if there is ever a problem, repair discounts, and priority booking. Care Plans available for furnaces, air conditioners, water heaters, fireplaces, HRV systems and more. Be sure to check out our Whole Home Care coverage. Call now to sign up.
Things you can Check before booking an AC Repair
Here are some things you can try to troubleshoot your air conditioner. Watch out for these signs to help reduce further damage to your air conditioning unit. If you catch the problem and repair it early, it may save the unit from having to be replaced.
Things you can try:
· Reset the breaker – sometimes the air conditioner breaker trips during the Winter and it needs to be reset. Check the breaker or check for a blown fuse on your electrical panel.
· Change your furnace filter – your furnace and air conditioner work together so it's important to continue changing your filter through the Summer. A dirty filter acts like a BLOCKED filter so air can't get through causing your system to work harder than it has to. If there is condensation or freezing on or around your furnace, check your filter, shut your air conditioner off for a few hours and try again.

· Remove your AC cover – before running your air conditioner, make sure you remove the cover to prevent freezing & possibly ruining the compressor. Your air conditioner needs proper airflow to work.
· Check the thermostat – make sure the thermostat is set to COOL and not set to fan. We suggest adjusting the thermostat to a temperature based on your comfort level, not necessarily just what temp the thermostat says. We do not recommend cranking the AC as this may put stress on the system which can result in needing a repair and higher energy bills… TIP: Think of it like a car. Typically, better fuel economy is achieved with consistent highway driving, not stop and go.
· Keep vents clear – moving things like furniture away from the vents will promote easier air circulation so your furnace and air conditioner can work with ease. This can result in better comfort & energy savings. Check that your vents are open, free and clear.
· Water dripping from the inside portion of the AC unit – it could be one of two problems: 1) a plugged condensate drain (typically an inexpensive repair) or 2) the indoor evaporator coil is freezing up. This could be due to either an airflow issue or possible refrigerant charge issue. Change your filter, turn off the system and call us for help 519-439-4328.
*Please remember to ensure all of your ductwork vents are open, free & clear and that your air filter is clean. If this all checks out and you are still having issues, please call Donaldson for professional help with your air conditioner.*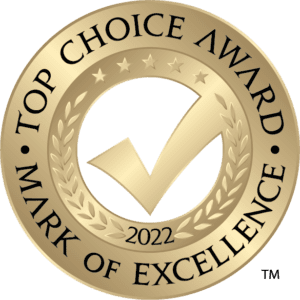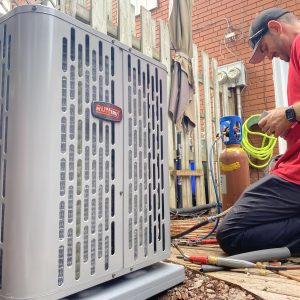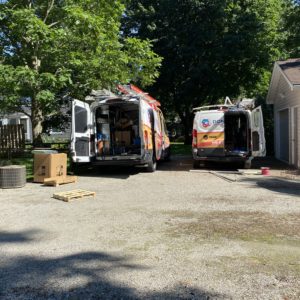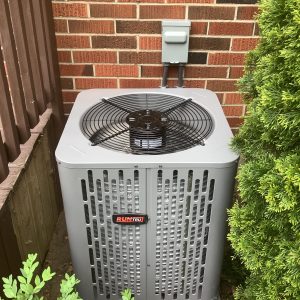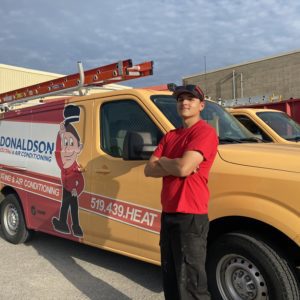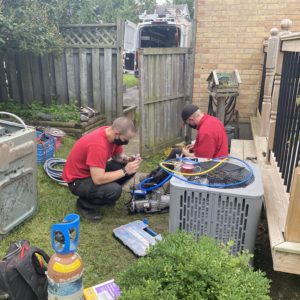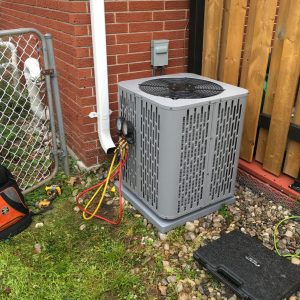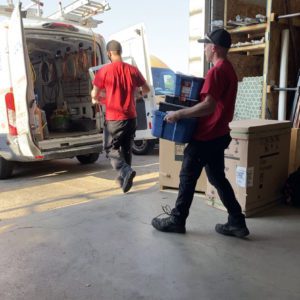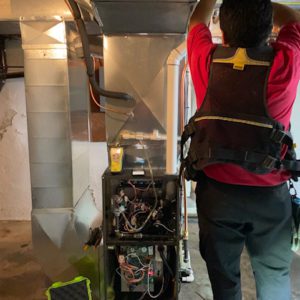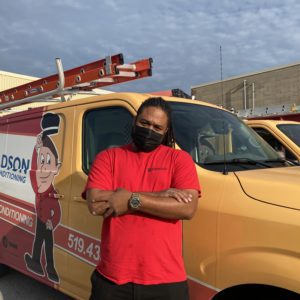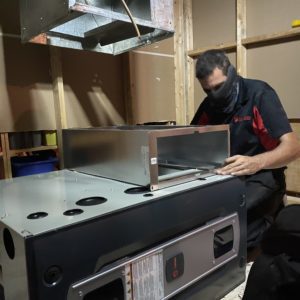 Contact us for An AC repair
"*" indicates required fields