HVAC and Home Service Company in London, Ontario and surrounding nearby areas

Why Choose Donaldson Home Services
So, you're researching contractors? You came to the right place!
As an HVAC and home service provider, we are always a friend in your home, keeping you safe & comfortable. A local, family company that is here to help you make informed decisions about your home comfort.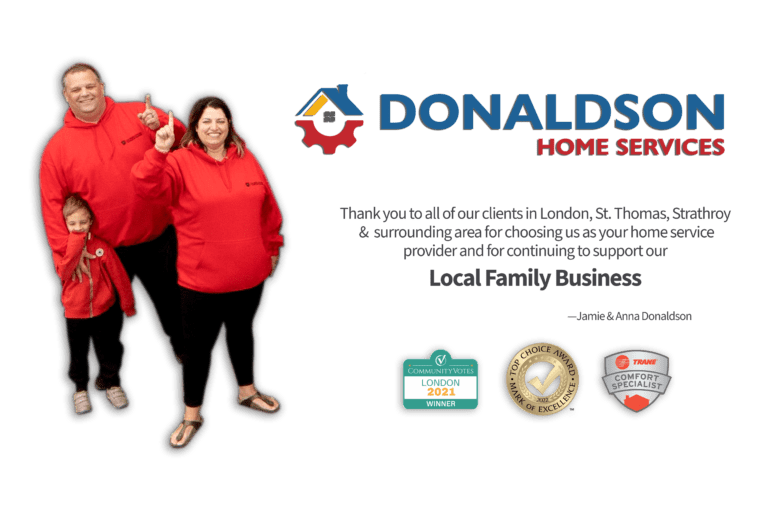 – Most importantly, NO CALL CENTER!
– You're a client, not a customer. This means you get ongoing support before, during and after.
– Get the True Care you deserve – Our True Care Warranty gets you 15 YEARS of parts & labour coverage on premium furnaces and air conditioners.
– DONALDSON TECHNICIANS (no subcontractors!). Licensed under TSSA, Techs will access the situation and go over repair options with you before doing any work. Make sure to check out our 90-Day Repair Guarantee.
– Professional quotes – all inclusive, easy to understand, upfront pricing.

– NO SALESPEOPLE – A Comfort Consultant's job is to perform a free home heat loss/heat gain analysis so you get the best size HVAC system for your home. They can also help you explore replacement options, financing and answer all of your questions about home comfort.
Company Warranties & guarantees
We stand behind everything we do – these written guarantees are for you. 
Inclusive & Upfront Pricing
Whether it's a repair or you are considering a new furnace or air conditioner, no one likes surprises. To make things as easy and as transparent as possible, most of our pricing is inclusive (parts & labor). Find comfort in your home and in your budget.
Should one of our experienced Technicians recommend and perform a specific furnace or air conditioner repair that fails to fix the original issue within the first year, we will make it right. Also be sure to ask us for more information on our 90-Day Diagnostic Guarantee.
The only viable way to know what size furnace or air conditioner your home needs is to perform a Heat Loss/Heat Gain Analysis that considers specific construction elements of the home such as size, windows, insulation, number of people and more. The proper size equipment will ensure optimal energy efficiency, operation and help you get the longest life out of your system.
No one likes a dud. Manufacturer's have admitted that 3% of new equipment may come with a defect. Should you heat exchanger or compressor fail with proper maintenances in the first 5 years, we will replace it free of charge.
The Unbeatable 15 year True Care Warranty
True Care was inspired by how we truly care. With the purchase of a premium furnace, get 15 years of parts & labour coverage, plus a free maintenance (including filter) every year, an upgraded air filtration system, wifi thermostat, exclusive discounts & priority booking – more.
our story -
a friend in your home
Donaldson Heating & Air Conditioning, is owned & operated by Jamie and Anna Donaldson.
After seeing one too many homeowners being taken advantage of by predatory business practices, false information and over-priced services, Jamie and Anna knew they wanted to do something about it.
In 2013, Jamie started making ductwork on a their picnic table in the backyard. He would work from 5am to 12pm if it meant helping someone be more comfortable at home. As Donaldson Heating & Air Conditioning grew, they realized how much families didn't actually know about how much HVAC can affect their home and health. Before they knew it, the True Care Warranty was born!
Our purpose is to keep you safe & comfortable by providing WOW-service, reliable brands & products, offer ongoing support programs, and by helping you make informed decisions about your home comfort. 
As a local family-owned business, we will always be a friend in your home!
For quality, comfort and peace of mind, our technicians are trained on top of the line Trane furnaces and air conditioner and on some of the more complex systems so that we can offer you the most options.
When it comes to furnaces and air conditioners, we strive for a 'good, better, best' system. Here are some of the best brands we offer.
Trane-
RATED MOST RELIABLe
Trane is an American Standard brand that offers some of the most robustly tested equipment in the industry! Trane equipment forgoes extreme heat, pressure, freezing and shock tests to ensure it can maintain performance and efficiency in extreme weather. Trane offers one of the only furnaces with a full stainless steel heat exchanger backed by their manufacturer warranty for 99 YEARS and is actually what inspired our extended 15 year True Care Warranty. 
We also offer a more affordable option air conditioner known as RunTru by Trane. 
If the last thing you want to be thinking about is your furnace or air conditioner, Trane is a great option for you!
Napoleon-
our lastest addition
Napoleon focused on providing functional and stylish products. You may know them for originally manufacturing fireplaces. Napoleon is a Canadian, industry-leading manufacturer of high quality home comfort systems for residential & commercial applications. Napoleon is one of our newer product lines and is a great option if you're looking for something reliable and affordable. Also covered by our extended True Care Warranty. 
Meet with us for more information about Napoleon.
Goodman is a well-known brand and is the most affordable furnace and air conditioner product we install. Although Goodman furnaces and air conditioners do not use the same premium materials and does not go through the same level of testing as Trane and Daikin, Goodman is still a reliable brand. Our Goodman products come with a standard 10 year manufacturer parts warranty and can be partnered with one of our Maintenance Care Plans for added piece of mind.
Meet with us for more information.
77 Bessemer Rd, London, ON N6E 1P9
The best time to reach us is during office hours Monday-Friday 8:00am-5:00pm but call us any time! Don't wait.
"*" indicates required fields