15 year true care Warranty

What is the true care warranty?
Your furnace and air conditioner serve you long after the installation day, so does the True Care Warranty. 
Our unbeatable 15 year True Care Warranty is what sets us apart from any other home service company.
When you choose a new premium furnace, you automatically become an exclusive True Care Client with 15yrs of coverage, free ongoing perks & upgrades, and a free maintenance inspection every year as our way of keeping you safe & comfortable and to help you get the longest life out of your home heating and cooling system.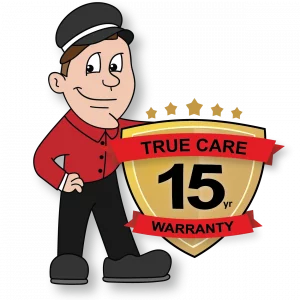 what's included With True care?
15 Years of parts & labour Coverage
Standard manufacturer warranties only cover 10 years of limited parts and do not cover any labour charges. One of the ways we stand behind our premium brands and our workmanship is by extending this warranty to 15 years of both parts & labour for any pieces we install with True Care.
Let us know if you want to upgrade your thermostat at the time of your furnace replacement and we'll put in a free WiFi thermostat on us.
Upgraded air Filter system
A standard furnace comes with a 1″ filter system. For added protection for your and your system, we'll upgrade you to a 5″ filter system. You likely won't need to change your filter as often and helps better filter the air. 
15 Years free maintenances
Once a year, WE CALL YOU to schedule your free annual maintenance. These maintenances are completely free and are required to maintain the 15 year True Care coverage. They also allow a licensed Technician to ensure your system is working safely and efficiently and can help ensure you get the most use out of your system.
A free filter replacement included with every maintenance for 15 years – that's 15 free filters!*

Need urgent service? Beat the booking line with True Care for the absolute next available appointment no matter the issue.

Why should I do a maintenance every year?
The truth about maintenances
1. maintain your manufacturer warranty
Many standard manufacturers warranties only cover limited parts within the furnace or air conditioner for 10 years meanwhile the average life of a furnace is 14.7 years and there is more to an installation than the unit itself. These basic warranties do not cover any labour charges to actually fix the problem, manufacturers can be larger corporations where warranty claims take a couple months to process and consider their warranty void if a homeowner misses a single maintenance.
True Care Warranty is a Donaldson warranty included free to extend the manufacturer warranty and then some!
2. get the longest life out of your system
Dirty filters are the leading cause of premature failure. The filter performs two crucial duties: it cleans the air within your home allowing you to breathe better and it prevents build up of pollutants in your system. Dirty air filters can drive up the operating costs of both your heating and cooling system and are the leading cause for premature system failure. A new filter is included with a maintenance check (if required) and how often you should change your filter may vary. Experts suggest every 3 months but if you're not sure, contact us today.
3. Maintenance for your furnace
= oil change for your car
They are equally important as your furnace continues to run for HOURS every day (In the Summer for cooling and in the Winter for heating). Booking a professional to check over your furnace and air conditioner can optimize your energy efficiency and prevent breakdowns before they happen unexpectedly. An annual furnace maintenance also gives the Technician a chance to ensure your system is not only working efficiently, but safely.
This is how we ensure you get the True Care you deserve.