New Air Conditioner Installations
London, Ontario & Surrounding Area

Serving London, Woodstock, St. Thomas, Strathroy & Area since 2013 with our upfront pricing, industry-leading guarantees and warranties and a company you can count on. We'll go over brands, sizes and air conditioner pricing options so you know exactly you're getting and what's involved.
Here you will find 4 important things to consider when thinking about a new air conditioner, common signs of a failing AC, and what's included with getting a new air conditioner.
BONUS – Check out our best promotion yet!
For a free, no-pressure air conditioner quote anytime, call Donaldson 519-439-4328.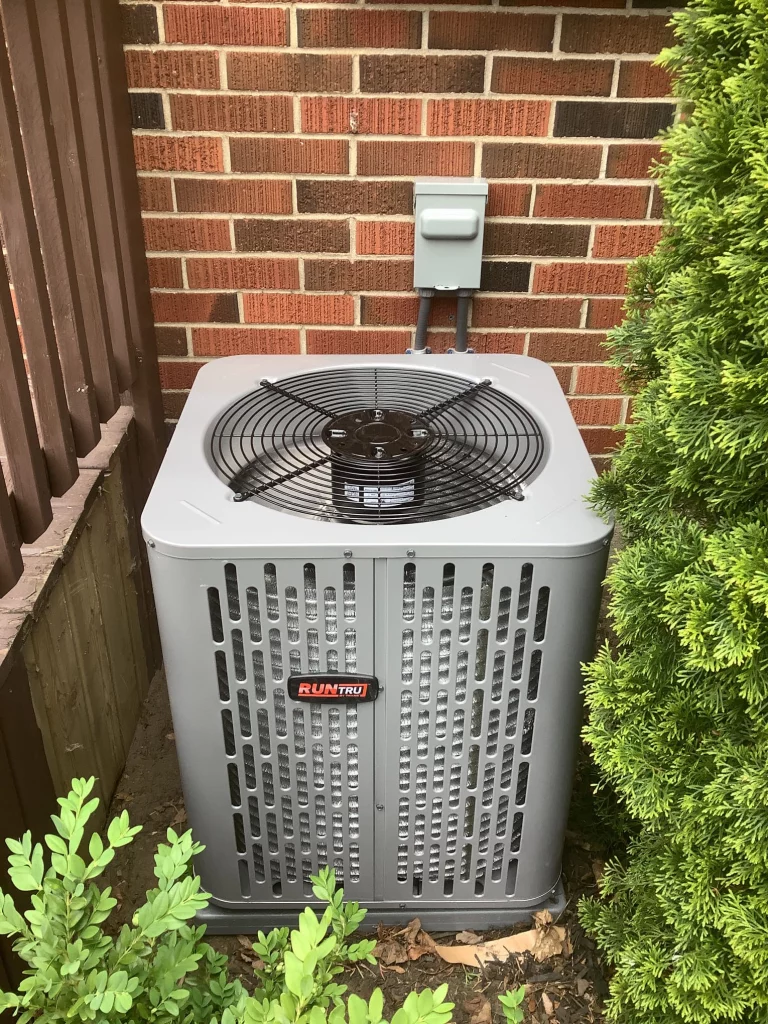 1. Air conditioners typically last about 10 years before they can start having issues. Sometimes air conditioner issues show up unexpectedly. 
2. Prevent breakdowns by booking a maintenance check, ensuring you get the right size air conditioner when considering a new one, and choose a reputable company for the air conditioner installation.
3. Unlike a furnace, air conditioners do not always show signs of wear and tear. AC repairs are either easy and relatively inexpensive, or very complicated and not very practical due to the expense. Ask us about financing a new air conditioner.
No matter what your air conditioner installation needs are, we are here to help!  
Should i repair or replace my AC?
Our advice? Take the age of the AC and multiply it by the cost of the repair. If it equals 50% or more of a new air conditioner installation, we would strongly suggest investing in a new air conditioner.
AGE of AC x REPAIR $ = 50% or more for a new AC… it may be time for a new one. 
Still not sure what to do, keep reading for common signs of a failing air conditioner.
common signs of a failing ac
Here are some indicators your air conditioner may be on its last legs.   
·AC Unit is older than 10+ years – All systems experience wear and tear and eventually will need to be replaced with a more efficient air conditioner.
·Summer cooling bill is higher than last year – As your AC unit ages, you may find it needs to work harder and harder to keep your home cool. Air conditioners can become less efficient each year, needing more energy to get the job done.
· Expensive AC repair bills – There are usually only a few things that can be wrong with an air conditioner: an easy, more affordable repair or a more expensive one. When having issues with your AC, we strongly suggest considering the age of your air conditioner and compare to investing in a new one.
· Refrigerant is low or leaking – Since refrigerant can be harmful to the environment, HVAC companies can not 'top up' refrigerants without first identifying and fixing the source of the leak due to Ozone Depletion Prevention Regulation. In most cases, it is very costly to search for the leak and to perform the leak repair.
what's involved with getting A New Air Conditioner Installed
Donaldson offers quality new air conditioner installations and repairs across London, St. Thomas and the surrounding area.
First thing's first...
What size air conditioner do you need?
Every home is different. The only viable way to know what size air conditioner you need is to do a thorough Heat Loss/Heat Gain analysis on your home. This is a completely free assessment that we do for you when you get a free quote. A Heat Loss/Heat Gain analysis is required to determine the right size air conditioner.
Don't guess. Know.
We do not not recommend guessing or simply replacing what you already have because the air conditioner because there are many construction elements to consider where warmth/cool air may be coming into and leaving the home. The right size air conditioner will maximize your energy efficiency, maximize comfort, and will ensure you get the longest life out of your brand new air conditioner.
Once we have done a Heat Loss/Heat Gain analysis, you can expect your Comfort Advisor to review our easy, all inclusive, upfront pricing options with you. Our ultimate goal is to GIVE YOU OPTIONS!
Book a quote during the day, evening, or even on the weekend. Whatever works for you!
Choose the actual Air Conditioner
There are different kinds of air conditioners. As a friend in your home, we will guide you through choosing exactly which air conditioner model would be best for your home and for your lifestyle. Which one you choose is up to you.
You can expect 2-3 Technicians on the job. An air conditioner installation typically takes about half a day. Technicians will confirm with you the scope of work for the day, remove any old equipment and leave no mess behind. Only, nice, cool air.
mini-Split Air Conditioner Installations
Small space or no ductwork? Heat and cool your whole house or one room at a time with a mini-split. These air conditioners are mounted on the wall and take up minimal space. They are great for hot rooms, additions, enclosed patios, larger multi-zone living spaces, apartments and condos, garages, and detached workshops. Call us today for a free quote today.
519-439-4328
Get a new air conditioner quote
"*" indicates required fields